TenneT strengthens its status as the largest EUR corporate Green Debt issuer
by FESiteAdmin | in News | 0 comments
---
TenneT Holding B.V. (issuer ratings A3/A-, stable outlook) successfully launched and priced a senior Green Bond issue of EUR 3 billion on the 19th of October. The transaction was split in four tranches of EUR 650 million (term: 6 years, coupon 3.875%), EUR 500 million (term: 9.5 years, coupon 4.250%), EUR 1,000 million (term: 12 years, coupon 4.500%)  and EUR 850 million (term: 20 years, coupon 4.750%) and received support of six active Joint Bookrunners: ABN AMRO, Deutsche Bank, HSBC, ING, Rabobank and SMBC.
Arina Freitag, CFO of TenneT: "This decade will require record investments in security of supply and the expansion of renewables in Germany, the Netherlands and Europe. This is the backbone for the energy transition and a key success factor for our industries. As one of the biggest investors in Europe, we are deeply committed to make an important contribution to this profound transformation. This is also reflected in our financial strategy: Green Finance has been part of our DNA for years and despite the current challenges it will even play a growing role in our company strategy."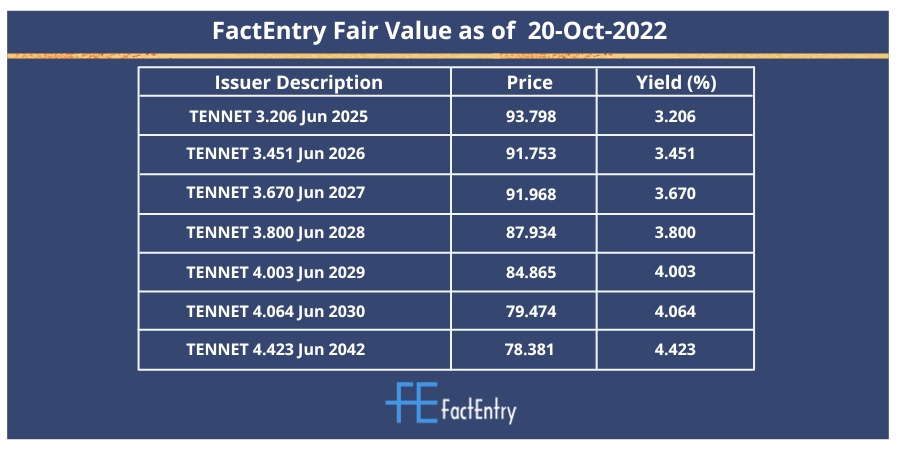 Proceeds will, in line with previous issues, be used to invest in eligible green power transmission projects in the Netherlands and Germany focused on connecting large-scale offshore wind farms to the onshore electricity grid and investments in the onshore transmission grid with the main objective to increase the transmission of renewable energy. Further details on these projects and project selection process is set out in TenneT's Green Financing Framework dated March 2022, for which ISS ESG has provided a Second Party Opinion to confirm the alignment with the ICMA Green Bond Principles.
Investing in green energy
TenneT is heavily investing in the energy transition in Europe, making an important contribution to meet national climate targets and to connect everyone to a brighter energy future, whilst maintaining a solid financial position.
TenneT's investments are mainly directly related to the increase in renewable energy sources, such as wind and solar energy. This requires both onshore and offshore grid expansions in the Netherlands and Germany. In the next ten years, TenneT will build 4,000 km of additional onshore grid connections in Germany and approximately 1,250 km onshore grid connections in the Netherlands. Around 2030 TenneT expects to have realized approximately 40 gigawatt (GW) of installed connection capacity for offshore wind farms in the Dutch and German parts of the North Sea.