Ecopetrol successfully carries out its first foreign public debt management operation for US $ 2,000 million, through the issuance of bonds in the international capital market
by FESiteAdmin | in News | 0 comments
---
Ecopetrol SA informs that it successfully carried out, based on the authorization issued by the Ministry of Finance and Public Credit through Resolution 2600 of October 27, 2021, its first operation to manage external public debt for US $ 2,000 million with which it is partially refinanced the credit obtained to finance the acquisition of 51.4% of Interconectado Eléctrica SA (ISA), through an operation of issuance and placement of public debt bonds in the international capital market, under the following conditions:

Transaction date

October 27, 2021

Compliance date

November 2, 2021

Deadlines

10 years

30 years

Due date

November 2, 2031

November 2, 2051

Performance

US $ 1,250 million

US $ 750 million

Nominal amount

4.625%

5.875%

Coupon rate

4.625%

5.875%
With this operation, Ecopetrol improves its debt profile by extending its average life, at historically competitive market rates, without generating an increase in total debt.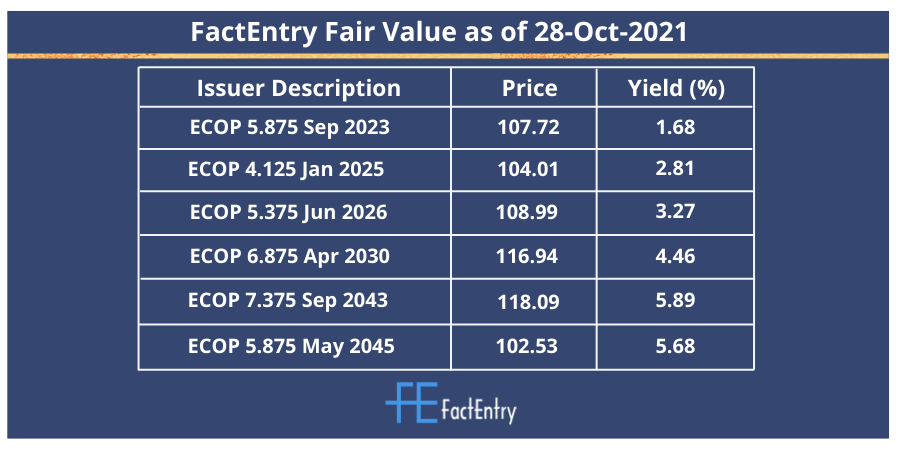 The book of the issue reached a value of more than US $ 7.6 billion, which is equivalent to 3.8 times the amount placed and included demands from around 290 investors from the United States, Europe, Asia and Latin America. The result shows the confidence of the capital markets in Ecopetrol's financial strength and its prospects for the future within the framework of its energy transition strategy.
The operation was carried out subject to the provisions of articles 2.2.1.1.3, 2.2.1.4.3 and 2.2.1.4.4 of Decree 1068 of 2015.