BBVA places €1.25 billion of senior preferred debt in a green bond issue
by FESiteAdmin | in News | 0 comments
---
BBVA placed €1.25 billion in a green bond issue of senior preferred debt today, with a seven year maturity. The issue price was set at mid-swap plus 155 basis points, below the initial target price (mid-swap plus 175-180 basis points). This is the Group's first bond issue with a "green" seal for senior preferred debt and the largest with this label for a Spanish financial issuer.
The coupon was set at 4.375 percent. The order book reached €1.9 billion.
The underwriting banks were Barclays, BBVA, BNP Paribas, Commerzbank and Société Générale. The bond will be listed on Euronext Dublin and was issued under Spanish legislation. The maturity date is October 14, 2029.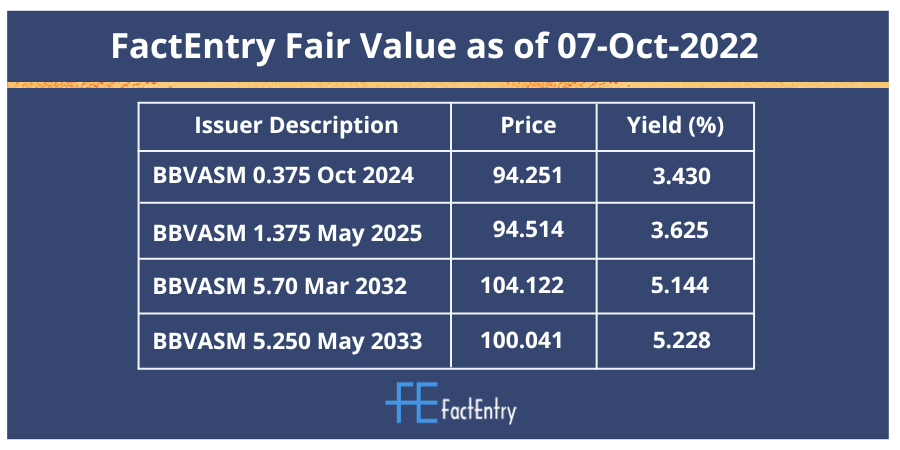 Geographically, most investors came from France (38%), Germany, Austria and Switzerland (22%) and the UK and Ireland (18%). By type of investor, investment funds (62%), insurance companies and pension funds (24%) and banks and private banks (11%) predominate.
The aim of this bond issue is to finance growing commercial business and meet the goal of carrying out at least one green or social issuance per year.
In 2022, BBVA has had four other public debt issues: an issue of senior non-preferred debt for a total of €1 billion; an issue of senior preferred debt in two tranches for a total volume of €1.75 billion; another issue of senior non-preferred debt in two tranches, issued in dollars, and a €1.25 billion of senior preferred debt issue. In addition, the bank has also privately issued senior preferred debt on several occasions for a total amount of €1.07 billion.
BBVA has issued three other green bonds since 2018, each totaling €1 billion: two senior non-preferred bonds, issued in 2018 and 2019, and a contingent convertible (CoCo) bond, issued in 2020. Furthermore, the bank has issued two senior preferred social bonds for a volume of €1 billion, respectively: a first social bond, designed to alleviate the impact of COVID-19 in 2020, and another one in 2021.